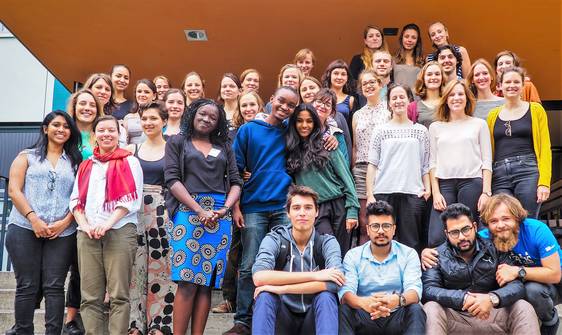 Aneesh Maini, India, Medical Student (Dr. Vasantrao Pawar Medical College,Hospital & Research Center):
Well.., I got out so many skills and knowledge to take care of our motherly earth. The projects and activities were so productive and substantial, that now, I think even I could be a speaker for this cause at some platform. (Climate Change) Above all, I am taking back so much beautiful memories with me of friends, of sessions and of activities.
Roman Dhital, Nepal, Bachelor of Medicine and Bachelor of Surgery (Tribhuvan University of Nepal):
It's the common hub to connect people all over the world for such a nice cause. It broadened my way of thinking globally, enlightened my brain to explore new ideas. I really enjoyed a lot.
Anna-Lena Kortenbusch, Germany, Medical Student (University of Lübeck):
The threat of Climate Change for our planet and the huge impact on environment and human health is obvious and alarming every day. With the skills of this Summer School I feel enabled to convince many other people as an IPPNW medical student and person.
Claude Kiania, Kenya, Medicine and surgery (Kenjatta University):
I can't believe the week is over. We had so much fun! The Summer School had very interesting people and speakers. Everyone was so wonderful, we felt like one big happy family. The programme gave us great insights into Climate Change and health. It was a paradigm shift of sorts. I now want to do so much more to safeguard the future of our world. The Summer School was a beautiful experience to have in this lifetime and we do not leave it here. We carry it with us into the future and to our various homes all over the world. And we proved that anywhere in the world we can have a good time! It was also amazing to discover that we share so much in common with everyone who attended! The same dreams, fears and aspiration for the future! The synergy!