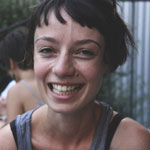 I was amazed by the diversity of participants and the incredible high level of maturation to reflect and work on Global Health issues not only on a policy but also on a personal level. The joint spirit on creating more equity in health was really powerful and strengthened my own will to get active in this field. Hence, despite discussing a lot of complex problems I feel optimistic and look forward to working with this great people in the future in order to find innovative, creative and ethical sound approaches to the challenges tackled this week.
Ines Böhret from Germany, M.Sc. Global Health and M.A Caritas Science and Value-based Management
The conclusion I can draw from the summer school is that we can dream of a just society, where no one needs to worry about the basic rights of survival, well-being, freedom, and identity. We, the participants, are going to be significant people of the future, and it is our responsibility to establish a just system, at least in health.So, where do we start? We start with the most basic needs: food, clothes, shelter and social determinants of health. When these are scarce for a large population of the world, focusing on health system alone won't work. No one would want health more than food. Let's start with less developed countries, where people are even dying of diarrhoea and fever. The causes behind this are in the social determinants of health and access to basic needs. A malnourished child is definitely more susceptible to diseases and resultant morbidity and mortality than a well-nourished child. Changing the perception of the community regarding vaccine-preventable disease should be given more importance than building a vaccination center. Sex education in schools is more important than opening condom outlets in every neighbourhood. May no one die from diarrhoea while some are getting their eyelashes longer. May no one die of Tuberculosis when someone is getting their Motivational Deficit Disorder treated.
Pawan Gyawali from Nepal, medical student and IPPNW exchange student
The Global Health Summer School was a very encouraging and inspiring experience that will shape my personal and professional development and how I'll get active. The talks and workshops did not only give me the frameworks to specifically criticize what I don't like about health systems or more broadly our world in general. During the week I got the rare chance to engage with these amazing people that don't mind to speak up and take responsibility – this applies to speakers as well as participants. I feel like, because of ore like-mindedness, we instantly connected on a high level so that there was space for inspiring one another and to come up with actions to change what we don't want to accept.
Leonie Imberger from Germany, medical student
It was a really good experience and I gained a better understanding on how the power structures are affecting the rights for health. It was also a good structure to find people with the same belief of rights and to form networks.
Anushree Dinangane from India - psychotherapist and founding member - Safety & you, Safe Stories