As a geographer, I was initially worried that the Summer School would be dominated by medics. This was not the case as so many disciplines were represented, from politics to anthropology etc. These various perspectives made exploring me topics so much more interesting and showed a snapshot into how interdisciplinary collaboration can work to achieve global health goals. Overall the Summer School has inspired me to pursue a career in global health. To know that there are so many amazing people out there who are striving to make the world a better place is really encouraging. I would definitely recommend the Summer School to anyone interested in Global Health, no matter your background.
Bronwyn Mathews, geography student from Scottland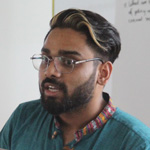 The program was really one sort of unique experience for me. Mostly to understand how different aspects of health, security, migration can relate to each other but with a critical lens over it. But the most striking piece of learning for me was to realize that the "so-called" big organizations and european policies are not as inclusive/ideal as I/we (my country) assume it to be.
Another realization/knowledge I don't want to miss to mention would be to always ask "why" to every presumption we do have in mind and to keep fighting up in this sector, not with t
he system but within the system.
Homendra Sah, medical student and p&e exchange student from Nepal
Participating in the summer school was a very intense experience. What I appreciated the most was the interdisciplinary insight and by that the change of perspectives on current global health issues. For me, as a medical student, the political dimension, especially the policy making on a global level, was a field I learned a lot about. We heard inspiring speakers and had constructive discussions that gave loads of input and motivation to keep working on the topics that were covered. It was very motivating to see that there is a lot of expertise and potential spread not only within our group but all over the world to rethink our current (health) system and to further develop alternative ideas to solve global health issues.
Paula Schneemann, medical student from Germany
Before landing in Berlin, I was anxious. I didn't know what to expect. But as soon as summer school begun, it was so exhilarating. The content taught was amazing and relatable and the discussions were engaging and kept you thinking.
I met some amazing people and now I feel like a global village really exists. We shared our opinions and adventures and it was phenomenal.
Truly, a mind that is stretched by a new experience can never go back to its old dimensions.
Lisa Maina, medical student and exchange student from Kenya