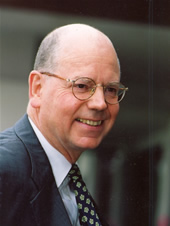 English: Paul U. Unschuld studied pharmacy and earned his Dr. phil. degree in sinology and political sciences in Munich. He qualified as a university professor in the history of pharmacy, history of medicine and Chinese studies and earned a Master's degree in Public Health at the Johns Hopkins University in Baltimore where he began his academic career as an Assistant Professor in 1975. In 1984 he returned to Germany and was appointed professor at, and in 1986 became the director of, the Institute for the History of Medicine of Munich University. In 2006 he became the director of the newly founded Horst-Görtz-Institute for the Theory, History and Ethics of Chinese Life Sciences, Charité – Medical School in Berlin.
His research, teaching and publications have focussed on (1) comparative history of European and Chinese medicine from their documented beginnings to the present, (2) philogical analysis of ancient Chinese medical texts, and (3) the public health implications of culturally heterogenous health care delivery systems.
He is the member, director, expert and advisor of several journals, organisations and international committees. Among his most recent books are "The Fall and Rise of China. Healing the Trauma of History" and "Ware Gesundheit – Das Ende der klassischen Medizin" (Health as a commodity – The end of the classical medicine).
Deutsch: Paul U. Unschuld studierte Pharmazie und promovierte in Sinologie und Politikwissenschaften in München. Seine Habilitation erlangte er in Geschichte der Pharmazie, Geschichte der Medizin und China-Studien. Er erlangte zudem einen Master an der Johns Hopkins Universität in Baltimore, wo er auch seine akademische Laufbahn als Professor 1975 begann. 1984 kehrte er zurück nach Deutschland und wurde 1986 als Professor des Instituts für Geschichte der Medizin in München berufen, wo er zwei Jahre später leitender Direktor wurde. 2006 wurde er Direktor des neu gegründeten Horst-Görtz-Institut für Theorie, Geschichte und Ethik chinesischer Lebenswissenschaften an der Charité.
Seine Forschung, Lehre und Veröffentlichungen fokussieren auf (1) vergleichende Geschichte europäischer und chinesischer Medizin angefangen von den ersten Dokumentationen bis zur Gegenwart, (2) die philologische Analyse alter chinesischer medizinischer Texte und (3) die Auswirkungen kulturell heterogener Gesundheitssysteme auf die öffentliche Gesundheit.
Er ist Mitglied, Direktor, Experte und Berater zahlreicher Fachzeitschriften, Organisationen und internationaler Komitees. Seine zuletzt veröffentlichten Bücher sind "The Fall and Rise of China. Healing the Trauma of History" und "Ware Gesundheit – Das Ende der klassischen Medizin". Weitere Informationen zum Buch in der FAZ (6/14) und dem BZB (6/14).